I look forward to partnering with you and your patients on their journey to better health and well being.
Dr Mahyar Amjadi
Specialist Plastic Surgeon
I have extensive experience in plastic surgery. My areas of special interest include: facial plastic surgery, breast surgery, and skin cancers. I use my experience in reconstruction and my intimate knowledge of human anatomy, together with my ability to create beauty and harmony. These skills form the foundation of my practice.
Comprehensive Care
My practice is divided between skin cancer, hand surgery, and general plastic surgery such as breast and facial surgeries. I operate at both public and private hospitals.
Urgent Referrals
I make sure that urgent cases are seen in consultation in the same week as referral. I can usually accommodate urgent procedures within 1 week of referral.
Available for Advice
I would be more than happy to receive a call from a referring doctor at any time. I know often it is very helpful to have access to a surgical opinion when your patient is in front of you.
5 COMMONLY
MISSED AREAS IN
SKIN CHECKS
Must read for all skin cancer doctors
Will save you future complaints
Patients will come back for your thoroughness
ABOUT DR AMJADI
I am a Sydney trained plastic surgeon. I am dual trained, with both a dental degree from the University of Adelaide, and a medical degree from Flinders University. I completed my resident years in Adelaide, working at the burns surgery unit at the Royal Adelaide Hospital and the Women's and Children's Hospital.
I moved to Sydney to complete my plastic surgical training, where I worked at more than eight major training hospitals in the state, including a special training time at the Australian Melanoma Institute.
I now divide my time between public and private practice. I operate at Auburn public hospital, and privately consult from Edgecliff, Westmead, and Gymea.
My practice is divided between skin cancer surgery, hand surgery, and general plastic surgery such as breast surgery and facial surgery.
I have been fortunate to have had the opportunity and experience to perform thousands of operations to date and partner many patients on their road to recovery or transformation. I am honest and clear with my patients, and many of my patients have been coming to me for years, and referring their family members to me. Surgery is a stressful event, and patients appreciate a calm reassuring and kind surgeon during this often challenging period.
I look forward to being of assistance to your patients.
Surgery may not be the answer
Surgery-first jaw surgery
NSW laws for cosmetic surgery
Complete Range of Plastic Surgery Services
SKIN LESIONS
Skin cancer surgery
Moles and spots
Webbed toes
Skin checks
HAND SURGERY
Carpal tunnel
Dupuytren's contracture
Trigger fingers
Hand fractures/trauma
BREAST
Breast reductions
Breast lifts
Breast implant removals/replacements
Breast Asymmetry Correction
FACE
Facelift
Neck lift
Blepharoplasty
Rhinoplasty
Prominent Ears
I have met many of the GP's in the local areas where I consult. I would be delighted to come and introduce myself to you at your practice.
Dr Amjadi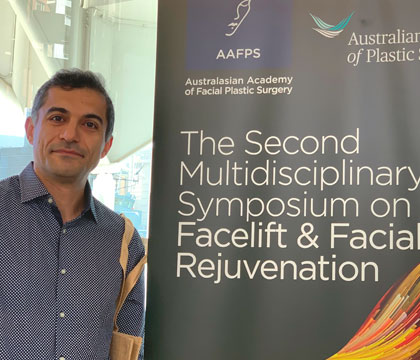 Before and After Photographs
All patients have provided consent for the publication of their photos.
CONTACT US
Please fill out this form if you have a question about a patient. You can attach a photograph to the form. I will contact you as soon as possible.